Heavy-Duty Tree Stake Crop Applications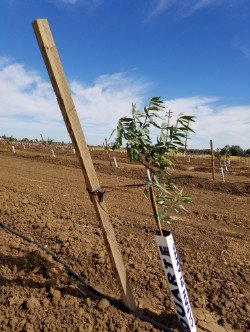 Heavy-duty tree stakes are a critical component for the safety, support, and development for newly planted young trees for numerous varieties of trees and plants. When done correctly, tree stakes can enhance the growth of your trees or plant for years to come. These types of stakes can support the maturation and growth of an abundance of species of plants and trees, while providing convenience and ease of use for the grower. Depending on your specific growing needs and crop, heavy-duty tree stakes are available in a wide range of shapes and sizes.
Tree Stakes for Most All Crop Applications
Phoenix tree stakes provide unique solutions for
almonds
,
pistachios
,
walnuts
,
pecans
, and
stone fruit
props within the orchard industry. At Phoenix we also carry a large line of posts for
vineyard
,
berry farm
, and
farm fence post applications
. Our advanced quality stakes are also manufactured specifically for your unique application needs. In addition, each of our heavy-duty tree stakes are fully warranted for driveability, which provides a peace of mind that cannot be matched unless we have the quality to back it up.
With so many options for treated stakes, we always have a wide range of tree stake options for your crop applications. Let us help you with your next project
Request a quote
or
Contact Us
at 559-271-2377 today.
Key Advantages of Heavy Duty Tree Stakes
No matter your crop application needs, our tree stakes will provide your crops with the support and structure that they require to fully thrive to maturity. Some of the additional benefits of utilizing a heavy-duty tree stake from Phoenix Enterprises include:
Every post and tree stake carries with it a performance warranty.
Phoenix maintains a large, in-stock inventory.
Stakes are ready for immediate shipment.
All stakes and posts are milled in Oregon at our own mill, Tioga Pacific Enterprises
Phoenix does not permit treatment shortcuts.
Every product is treated to spec, never to "refusal."
Wood is treated locally in California.
Full and partial truckload shipments are available.
Dimensional & Round Tree Stakes for Pistachios
At Phoenix we treat all our
pistachio round wooden stakes
with ACZA wood pressure treatment, which extends the life of the stake. This treatment also protects against the stake against insects and different types of fungi. Pistachio tree stakes are also available in numerous
sizes
and are manufactured from either strong
Douglas Fir
or
flexible steel
to support your specific needs.
American-made Flexible Steel Tree Stakes are becoming the next solution for staking pistachio trees. It has been reported that the flexible steel can enable the trees to bigger root balls faster, as well as a bigger trunk and more expansive canopies. This results in trees in production much sooner versus using sturdy, but inflexible, wooden tree stakes. Our steel stakes are sourced exclusively from a USA mill, using only proven quality and tested American steel, that meets only the highest standards of quality.
These steel stakes are environmentally friendly, with the steel stakes made only from recycled American steel, and this steel is perfect for recycling after removal for hassle-free disposal.
Phoenix is the ONLY on-ground inventory supplier of flexible steel stakes in California. Order a small test quantity today, or join many of our innovative growers that are switching to American made flexible steel stakes.
Dimensional & Round Tree Stakes for Almonds
Our
almond tree stakes
are manufactured to the highest quality standards. They are treated with CCA for added protection against all levels of exposure, including both fresh and salt water. These advanced quality stakes are also manufactured from Douglas Fir in various
sizes
.
Walnut Round Tree Stakes
Phoenix Enterprises utilizes only the sturdiest and knot free
Douglas Fir
to manufacture our advanced quality
walnut tree stakes
. These stakes are treated with
ACZA
or CCA for premium protection against carpenter ants, woodpeckers, fire and more.
Pecan Round Tree Stakes
For premium
pecan tree care
it is imperative to utilize a tree stake that will stand up to an array of elements. Our pecan tree stakes are pressure treated with
ACZA
outdoor preservative, which effectively penetrates coastal Douglas Fir wood.
Stone Fruit Heavy Duty Tree Props
At Phoenix our
stone fruit tree heavy-duty tree props
are completely customizable to your specific orchard requirements. These heavy-duty stone fruit tree props are also specifically sourced from super strong and true
Oregonian Douglas Firs
.
Heavy Duty Vineyard Posts
Our advanced quality
vineyard posts
are manufactured from premium Oregonian Lodgepole Pines,or the cores of super strong Douglas Firs.. These posts are also
ACZA
or
CCA
pressure treated for maximum water protection.
Berry Farm Heavy Duty Stakes & Posts
These dimensional or round tree
berry farm stakes
are manufactured from only the finest Oregon and British Columbia Douglas Fir trees These posts are ultra-consistent, with each post being nearly identical to the next. The
CCA wood treatment
and
ACZA wood treatment
also provide protection against wood decay, fungi and bacteria.
Vegetable Farm Stakes
Phoenix's
vegetable farm stakes
are exclusively manufactured from super strong Douglas Fir trees that are harvested in Oregon. These heavy-duty stakes are available in either
ACZA
treated wood or untreated, while maintaining a 99% drivability warranty.
Heavy Duty Farm and Ranch Fence Posts
Our premium quality
farm and ranch fence posts
are manufactured from eitherDouglas Fir or Oregon Lodgepole pines. Each post is completely consistent and true. The ACZA treated Douglas Fir 3.5" or 4" posts areprovided a 15-year warranty fromAarch Chemicals. The Oregon Lodgepole Pine posts are treated with
CCA pressure treatment
to the extremely high standards of .40 retention, never to just "refusal". Our experience with this high standard of cca treated wood provides many years of performance.
Contact Phoenix Enterprises for Heavy Duty Tree Stakes Today
Phoenix Enterprises carries a wide range of tree stake options across many crop applications.
Contact us
for more information regarding our tree stake options, or
request a quote
for an in-depth price analysis today.