Commercial Nursery and Landscaping Supplies
Phoenix Enterprises is an industry-leading manufacturer and distributor of premium quality commercial nursery plant and landscaping tree stakes. Our commercial tree and plant stakes are produced from the highest quality Douglas Fir trees. Phoenix Enterprises controls the manufacturing for all nursery stakes. This means our customers receive a stake free of knots, consistent in quality and is backed by our 100% usability guarantee. The stakes Phoenix provide are the stakes we are proud to know will be your solution.
To learn more about our commercial tree nursery supplies and high-quality commercial tree and plant stakes,
contact us
or
request a quote
for further pricing details today. We have the capabilities to be your premier supplier of high-quality tree and plant stakes.
Commercial Tree Nursery Stake Features
Phoenix Enterprise's wood tree stakes for commercial nurseries and landscape contractors promote positive tree growth and provides advanced protection from wind, and inclement weather. Some of the premium features and benefits associated with commercial nursery plant and tree stakes, include:
Outstanding long-term performance
Consistent & Identical tree stakes
Oregon sourced and California stocked for quick delivery
100% live tree utilization
Douglas Fir stakes provide increased strength and flexibility
Performance warranty provided
Expertly sorted to remove knots and weaker stakes
Friendly support staff are always available
In addition, Phoenix also offers advanced quality metal tree stakes as an alternative to traditional wooden round tree stakes.
Commercial Nursery Plant Stakes
Phoenix Enterprises' premium quality
wood plant stakes for nurseries
are produced from premium Douglas Fir trees. These heavy-duty plant stakes are clean and strong, which provide the perfect structure for dimensional or round plant stakes. We provide the following commercial nursery plant stake options for your exclusive project needs:
1" x 1" Dimensional Tree Stakes - Douglas Fir
1" x 2" Dimensional Tree Stake - Douglas Fir
1.25" x 1.625" Square Tree Stake - Douglas Fir
1.75" X 1.625" (2") x 10' Square Tree Stake – Douglas Fir
Commercial Nursery Landscape Tree Stakes
Landscaping tree stakes provide an effective way to assist the development of young growing trees that have not reached maturity. Phoenix Enterprises'
bulk commercial tree stakes
for landscaping companies are manufactured from ultra-strong Douglas Fir trees. These commercial contractor stakes are sold with a 100% drivability guarantee and are completely free of knots. We provide the following landscaping tree stake options:
2" Round Tree Stake - Douglas Fir
2.20" Round Tree Stake - Douglas Fir
2.75" Round Tree Stake - Douglas Fir
2" x 10' Round Tree Stake - LPP
2" x 12' Round Tree Stake - LPP
3" x 10' Round Tree Stake - LPP
3" x 12' Round Tree Stake - LPP
Commercial Wooden Nursery Boxes and Tree Boxes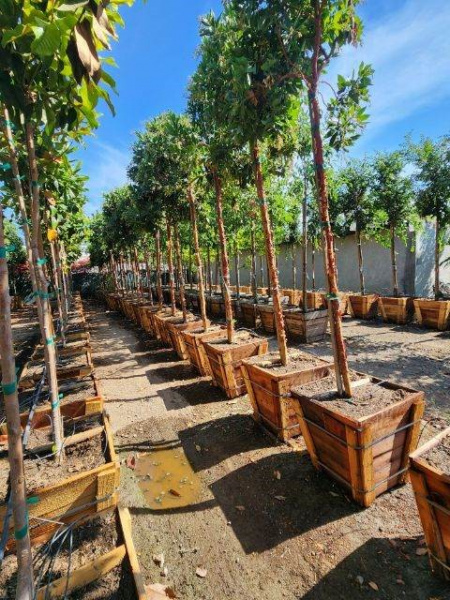 Heavy-duty wooden tree boxes are ideal for planting and transporting large mature trees. Phoenix Enterprises is a unique source for custom wooden boxes used for mature tree transport. The boxes are custom built to each customer's specifications. The focus for Phoenix is only large box construction.
72"
84"
96"
108"
120"
132"
144"
Phoenix Enterprises also carries nursery boxes made of bright redwood. Bulk orders only.Nursery Redwood Box Sizes:
Contact Phoenix Enterprises for Commercial Tree Nursery Supplies Today
Go Stakes ships nationwide and we carry a wide range of tree stake options across many crop applications. To learn how we can help you with your next project
Request a quote
or
Contact Us
at
559-271-2377
today.