History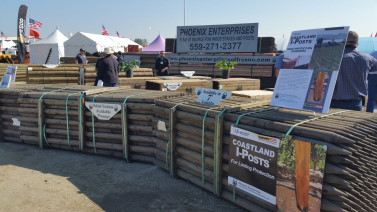 3.5 x 8 I-Posts ACZA Treatment
Roots in the Agriculture, Lumber, and Nursery Industry
Phoenix Enterprises was started and founded by Don Weld in 1989, with the goal of giving to the agricultural and nursery industry a product of superior quality, with timely delivery. Since then we have been a leader and innovator in
agricultural wood stakes and posts
.
Don grew up in Fresno and grew up working in the vineyards and cotton farms surrounding Fresno. After spending 10 years in the agricultural lumber business, Don became convinced there were better solutions for the agricultural industry, as it related to sourcing wood solutions, and he struck out on his own forming Phoenix Enterprises.
Premium Tree Stakes, Nursery Stakes, Tree Posts, and More
And Don brought a list of new solutions to the industry throughout his career. Phoenix was the first to provide a jumbo round Douglas Fir stake, the strongest wood stake in the market. Phoenix was also the driver behind the one-piece wood trellis for vineyard use, many of which are still in use today.
And in the last several years, Don led Phoenix to re-set the standard by bringing the I-Post to the market. The first wood post with a warranty, a 15-year warranty at that. The
I-Post
incises its bottom 3 feet for superior
ACZA pressure treatment
. And with ACZA as the treatment, it sets the standard with industry leading performance in agriculture.
In 2015, Don decided it was time to retire, and Stephen Fischer and Don got together to carry-on the Phoenix Enterprises tradition. Having been raised on a farm and orchard growing up, and holding an Agriculture degree and a long history in wood products, Stephen Fischer jumped at the chance to continue on the Phoenix Enterprises legacy.
Continuous Tree Stakes and Posts Innovation
On March 1, 2016, Phoenix Enterprises ownership transitioned from Don Weld to Stephen Fischer, and the tradition, legacy, standards, and focus continue on today.
Today, the standards and heritage of industry innovation continue. Phoenix is the first wood provider to the agriculture industry where every product is warrantied for performance.
Servicing the Agricultural Industries across North America
And the legendary Phoenix inventory levels continue. Lots of inventory. No provider of tree stakes, posts, and poles keeps more inventory on-ground in California for immediate delivery. That is an unmatched investment in the orchard, nursery, vegetable farms, and vineyard industries of California, Arizona, and Mexico.
Most recently, like Don Weld so many years before, the Phoenix team has identified special needs in the agricultural community and industries.
High quality stakes today in orchards, farms, and vineyards of California, Arizona, and the Western US region.
While the rest of the agricultural tree stake suppliers want to keep searching for a lower quality product to sell, Phoenix believes the needs are exactly the opposite. The new production standards of today's growers demand better quality steel, providing long-term solutions, not long-term failures.
Contact Phoneix Enterprises for Premium Wood Stakes and Wood Posts Today
Access the information within our website, determine your needs, and contact us so we can begin assisting you in supporting the proper growth and development of your crops and trees, as well as providing concrete stakes for your construction projects. Our premium wood stakes and steel stakes provide a secure foundation so you can start and build your investment the right way.